Tshirt $19.99
2X $23.99; 3X $25.50

Longsleeve Shirt $24.99
2X $27.99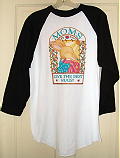 Baseball Shirt $23.99
2X $27.50, 3X $29.00

Sweatshirt $28.99
2X $30.99, 3X $32.99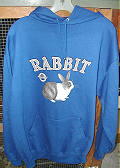 Hoodie pullover sweatshirt w/pocket $29.99
2x $31.99, 3X $33.99
---
Tshirts are generally heavyweight, quarter-turned,100% preshrunk cotton. Most are Gildan "Ultracotton," very soft and good quality. Sometimes Hanes brand is used. They're taped shoulder-to-shoulder and fully double-needle stitched.
Colors: white, natural, light blue, royal, forest, navy, burgundy, others! I take requests!

Long sleeve shirts are heavyweight, soft, 100% preshrunk cotton. Quarter-turned. Seamless collar. Taped shoulder-to-shoulder. Double-needle stitched neck and hemmed bottom.
Colors: white, natural, sand, maroon, purple, indigo, royal, grey, black, navy, forest.

Baseball shirts are medium weight with 3/4 length sleeves. They are 50/50 cotton/poly (tho l00% cotton may be available as well).
Colors: white body with arms in: navy, black, red, royal, forest, gold, purple. Some colors limited in 2X and 3X.

These heavyweight sweatshirts are really warm and comfy. They are 100% cotton and stay soft and cuddly through many washings. Mostly Hanes and JerZees heavyweights.
Colors: depends on size and design. May be one, or more, of the following: white, natural, ash, light green, emerald, turquoise, turquoise green, cobalt, navy, medium blue, burgundy, purple, fuchsia, red, forest, yellow. Please ask ;-)

Nightshirts/Tshirt dress: One Size Fits Most. 37 inches long. l00% cotton. Very soft and comfy. Comes in white, yellow haze, frost pink, frost sky (light blue)as light colors; also lilac, bright pink, red, black.

Hoodie pullover sweatshirts with large front pocket. Made by Jerzees, these 50/50 cotton/poly medium weight sweatshirts feature a hood and large front pocket
Colors: White, Navy, Heather Grey, Black, Orange, Forest, Ash Grey, Red, Royal Blue.

Skimp Fleece Loungers: I usually can snag a few of these each season. No promises... but as you can see they are like a very long, warm nightgown or lounger.
Colors may include: natural, pink, turquoise, emerald (gorgeous!), gray, navy, red.

Totes-- both regular size and the large zipper tote. Regular is 14"high x l0 l/2" x 5" deep.
The large zipper tote/travel bag is l5 l/2" tall, 22" across, and 5" deep. It has an inside zipper compartment and also the top zips. Both are canvas; the regular size is a stiffer canvas, the larger one softer, floppier. Both come in natural and navy.