Woohoo! HAREWEAR keeps hopping along-- great news for needy bunnies!
HAREWEAR has helped rescue and shelter rabbits and small animals who had no hay, veggies, chew toys, hidey holes, meds, and where no public care brochures were provided.
It has offered YOU top quality, attractive clothing to enjoy!
While there is much rabbit and animal merchandise out there, Harewear offers superior value and variety.

A win-win situation for buns and their devoted humans ;-)
HareWear bunny shirts and totes are great gifts. They are primarily l00% heavy cotton-- comfy, long-lasting, and easy to care for.

Our last order was a success, considering the economy has gone to bunny poop ;-/ We are focusing on practical items: Harewear T's, Totes (standard size) and Aprons.

So, welcome to the Harewear Discount Sale! Click the link below!

Aside from the sale items, I have a very few large size totes and a couple sweatshirts available. These are limited, so email me and order early!

I cannot offer *all* products unless enough people request them. Then I'm happy to do it.

People keep asking if they have a special pet photo, can I put it on a shirt.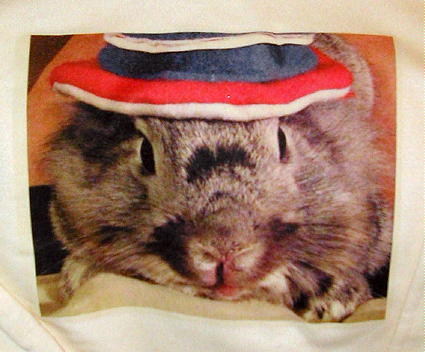 Does Skittles answer the question? ;-) (Dorothy Wood's little sweetie)



Remember, I'm no shirt store and require funds so *I* can place an order. Keep your checkbooks (or Paypal connected to checking) handy! Proceeds from Harewear helps the rabbits; this time 100% proceeds will will go to provide adoption kits and bunny treats for the Santa Monica Animal Shelter.

And we're just putting up some clearance items, perfect sale items and some "select irregulars." Click here for The HAREWEAR SALE & CLEARANCE!

Harewear now has a large variety of designs. See our Rabbit, Cat & Dog, Bird, Small Critters & Wildlife, and Garden artwork.

And don't forget to check out the Bunny Nose Gallery just for fun!
---
Click here to see SIMON, the rabbit who inspired Harewear

Click here for HAREWEAR Bunny Designs

Click here for HAREWEAR Cat & Dog Designs
Click here for HAREWEAR Bird Designs
Click here for HAREWEAR Garden Designs
Click here for HAREWEAR Critters & Wildlife

Click here for HAREWEAR Products & Prices
Click here to go straight to the Order Form

Click Here to see Simon's life, Murf, and HAREWARE Pottery!
&nbsp Click Here to play Where's Wally?
&nbsp Click Here for the famous Bunny Nose Gallery
Click to see Oscar's Pizza Bunny Tale.
Shirt patterns are updated as new merchandise becomes available. Bookmark us and please check back soon!
---
---